Carbon Steel Pipe
Our facility in Alton, IL carries extensive inventories of carbon steel pipe in a variety of grades, most of which are listed below. With over 10,000 tons of inventory, in sizes from 1"- 48" we supply to a diverse range of industries, and for a wide variety of products and applications.
Our Quality ProductsCarbon Steel Pipe
Our pipe is sourced from leading domestic and import mills, with mill certifications on all graded material. Most of our A500, A53 and A252 items are melted and manufactured in the USA. We still carry structural grade, limited service and secondary for non critical structural applications where no mill certifications are required.
ASTM Grades:
A53 Gr A&B
A106 Gr B&C
A500 Gr B&C
A252 Gr 2&3
API Grades:
API5L Gr B
API5L X-42 through X-70
Structural Tubing
Eagle Tubular Products is a distributor of square and rectangular carbon steel tubing. We can supply grades of square and rectangular tubing in A500 GR B & C in sizes through 16" x 16" square and equivalent rectangles. Give us a call on your next square and rectangular tubing requirement.
Eagle TubularValue Added Services
Our fabrication and finishing department ensures your final product is perfect with in-house finishing services. With industry certifications, our skilled team takes pride in producing exceptional products and going the extra mile to EARN YOUR BUSINESS!
Eagle Tubular Products Brochure
To view our most recent literature, please use the link below to download our brochure.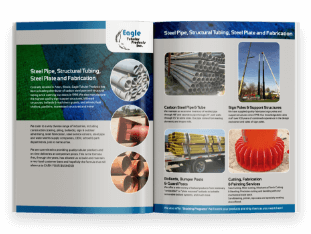 Have a Question or Inquiry?Work with Eagle Tubular
Our promise is to offer high-quality steel tubular products on schedule with cost-effective solutions. We help clients in a wide range of industries and applications including construction, sign and outdoor advertising, steel service centers, school and parks departments, OEMs, and more.