Steel Dugouts and Shelters
We work closely with school districts, universities, and parks and recreation departments to manufacture and fabricate dugouts and sports shelters for use in athletic settings. Our expertise has grown to include dugout shelters (including the roofing), football goalposts, netting poles, scoreboard support structures, and more.
Our Quality ProductsDugouts and Shelters
Design assistance is available for all custom fabricated products for athletic applications. If you are a facilities manager or contractor in the construction or reconstruction of athletic sports fields or complexes, we can bring your vision to life.
Applications:
Baseball
Softball
Football Posts
Netting Poles
Steel Pavilions
Steel Dugouts and Shelters
Our experienced team assists in all phases of your dugout and shelter project including design assistance and engineering, surface preparation and finishing according to your specifications, and job site delivery.
Eagle TubularValue Added Services
Our fabrication and finishing department ensures your final product is perfect with in-house finishing services. With industry certifications, our skilled team takes pride in producing exceptional products and going the extra mile to EARN YOUR BUSINESS!
Eagle Tubular Products Brochure
To view our most recent literature, please use the link below to download our brochure.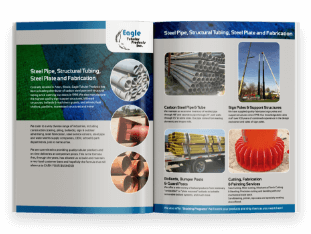 Have a Question or Inquiry?Work with Eagle Tubular
Our promise is to offer high-quality steel tubular products on schedule with cost-effective solutions. We help clients in a wide range of industries and applications including construction, sign and outdoor advertising, steel service centers, school and parks departments, OEMs, and more.