Cutting Services
We offer different levels of cutting services in order to best complete your project according to your requirements.
Saw Cutting
We have 3 production band saws that cut through 16" OD. Miter cutting is available through 12.75" pipe and 12" square tubing. We offer quick turn around times on saw cutting orders.
Mechanical Torch Cutting & Beveling
For larger diameter pipe up to 84" OD, we offer precision cutting and beveling with our mechanical track torch.
Plate Cutting
For more efficient and accurate plate cutting, we recently added a Hypertherm HPR260XD plasma cutting system. Your plate parts can be cut using our inventory, or from plate that you provide. All parts are nested and programmed for maximum utilization of the plate.
Our Finishing ServicesCutting
Our machines provide accurate and consistent cuts.
Our Services:
Saw Cutting
Torch Cutting
Beveling
Plate Cutting
Eagle TubularOther Finishing Services
Our fabrication and finishing department ensures your final product is perfect with in-house finishing services. With industry certifications, our skilled team takes pride in producing exceptional products and going the extra mile to EARN YOUR BUSINESS!
Eagle Tubular Products Brochure
To view our most recent literature, please use the link below to download our brochure.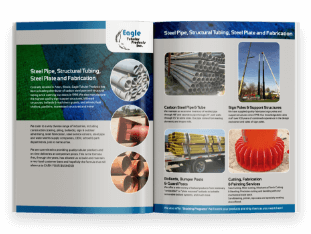 Have a Question or Inquiry?Work with Eagle Tubular
Our promise is to offer high-quality steel tubular products on schedule with cost-effective solutions. We help clients in a wide range of industries and applications including construction, sign and outdoor advertising, steel service centers, school and parks departments, OEMs, and more.