Sign Poles
Since 1998, we have provided high-quality, custom-fabricated sign poles and support systems to clients in a range of industries covering commercial advertising, mass transit, and local infrastructure applications. Our professional, in-house team provides design and engineering support to achieve the desired outcome of your sign pole or steel structure.
Billboard Structures
With experienced AWS Certified welders on staff, we can build your billboard structures according to pre-engineered specifications or we can assist in the design and engineering process based on your requirements prior to fabrication. With designs ranging in complexity, we have supplied structures that have been installed for most major LED display manufacturers throughout the United States and the Caribbean. We offer job site delivery and pride ourselves on completing projects on time and on budget.
Our Quality ProductsSign Poles
Your structure can be built to your pre-engineered specifications or we can help with the design and have the structure engineered to meet your specific criteria.
Qualifications:
All welders are AWS certified
Over 40,000 sf of shop & coating space
On time delivery to your shop OR job site!
Our Quality ProductsBillboard Structures
All standard sizes are available as a stack, "v", back to back, or single face. All structure columns are available in center mount, full flag, or partial flag.
Sign Poles and Billboard Support StructuresGallery
Our experienced team assists in all phases of your billboard or sign poles project including design assistance and engineering, surface preparation and finishing, and job site delivery throughout North America and the Caribbean.
Eagle TubularValue Added Services
Our fabrication and finishing department ensures your final product is perfect with in-house finishing services. With industry certifications, our skilled team takes pride in producing exceptional products and going the extra mile to EARN YOUR BUSINESS!
Eagle Tubular Products Brochure
To view our most recent literature, please use the link below to download our brochure.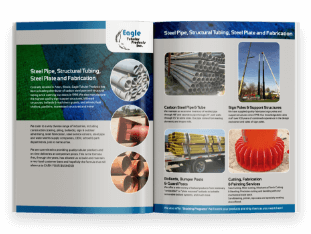 Have a Question or Inquiry?Work with Eagle Tubular
Our promise is to offer high-quality steel tubular products on schedule with cost-effective solutions. We help clients in a wide range of industries and applications including construction, sign and outdoor advertising, steel service centers, school and parks departments, OEMs, and more.