Steel Plate
We began stocking steel plate for our own use in components of many of our fabricated products, such as sign poles, support structures, and plate mounted bollards. With an increase in customer demand for steel plates, we now offer cut-to-size and fabricated plates for applications in many industries including steel distributors and fabricators, OEM's, and construction. We use leading high-tech machinery to ensure precision with each cut for plates up to 3" thick on the Hyper Therm HPR 260XD, using both plasma and oxy fuel in fabrication.
We stock steel plates in thicknesses from 1/4" through 3". The table capacity of our Hyper Therm HPR 260XD allows us to fabricate steel with dimensions up to 96" x 240".
Our Quality ProductsSteel Plate
All steel plates are cut and fabricated in-house on our Hyper Therm HPR 260XD.
Grades in-stock:
A36
A572
Other grades available as needed
Applications:
Base plates
Cap plates
Steel plates
OEM parts
Steel Plate
Steel plates are used as components in larger steel structures including sign poles and plate-mounted bollards.
Eagle TubularValue Added Services
Our fabrication and finishing department ensures your final product is perfect with in-house finishing services. With industry certifications, our skilled team takes pride in producing exceptional products and going the extra mile to EARN YOUR BUSINESS!
Eagle Tubular Products Brochure
To view our most recent literature, please use the link below to download our brochure.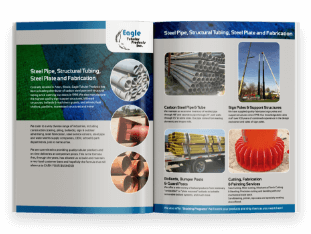 Have a Question or Inquiry?Work with Eagle Tubular
Our promise is to offer high-quality steel tubular products on schedule with cost-effective solutions. We help clients in a wide range of industries and applications including construction, sign and outdoor advertising, steel service centers, school and parks departments, OEMs, and more.