Painting and Coating Services
Eagle Tubular Products has the facilities and expertise to paint and coat to your specifications. If you're uncertain about which coatings would be best for your specific project, our experienced staff can help you select the correct products for your application and desired end product.
Our Finishing ServicesPainting and Coating
Our painting and coating team will take your project from fabrication to the finish line with a variety of coating options for your desired final product.
Eagle TubularOther Finishing Services
Our fabrication and finishing department ensures your final product is perfect with in-house finishing services. With industry certifications, our skilled team takes pride in producing exceptional products and going the extra mile to EARN YOUR BUSINESS!
Eagle Tubular Products Brochure
To view our most recent literature, please use the link below to download our brochure.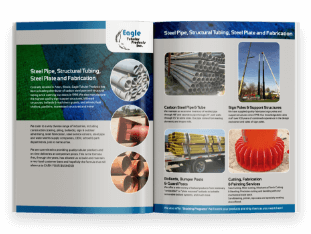 Have a Question or Inquiry?Work with Eagle Tubular
Our promise is to offer high-quality steel tubular products on schedule with cost-effective solutions. We help clients in a wide range of industries and applications including construction, sign and outdoor advertising, steel service centers, school and parks departments, OEMs, and more.