Welding Services
Our fabrication department takes great pride in going the extra mile to produce exceptional products. All welders are AWS D1.1 certified and held to the highest standards in our fabrication and finishing processes. From the most simple fabricated pipe bollard - to the most complex sign and billboard structures, you can rely on Eagle Tubular Products to get the job done right and on time - the first time.
Our Finishing ServicesWelding
Our experienced, in-house welders are AWS D1.1 certified and integral part of making sure your project is finished to your specifications. We also have a full time, in house Certified Welding Inspector (CWI) that inspects every project, as an intregal part of our QA/QC process.
Eagle TubularOther Finishing Services
Our fabrication and finishing department ensures your final product is perfect with in-house finishing services. With industry certifications, our skilled team takes pride in producing exceptional products and going the extra mile to EARN YOUR BUSINESS!
Eagle Tubular Products Brochure
To view our most recent literature, please use the link below to download our brochure.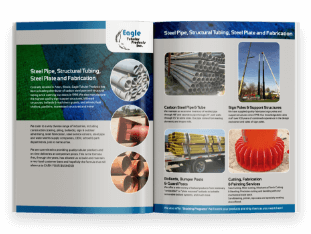 Have a Question or Inquiry?Work with Eagle Tubular
Our promise is to offer high-quality steel tubular products on schedule with cost-effective solutions. We help clients in a wide range of industries and applications including construction, sign and outdoor advertising, steel service centers, school and parks departments, OEMs, and more.